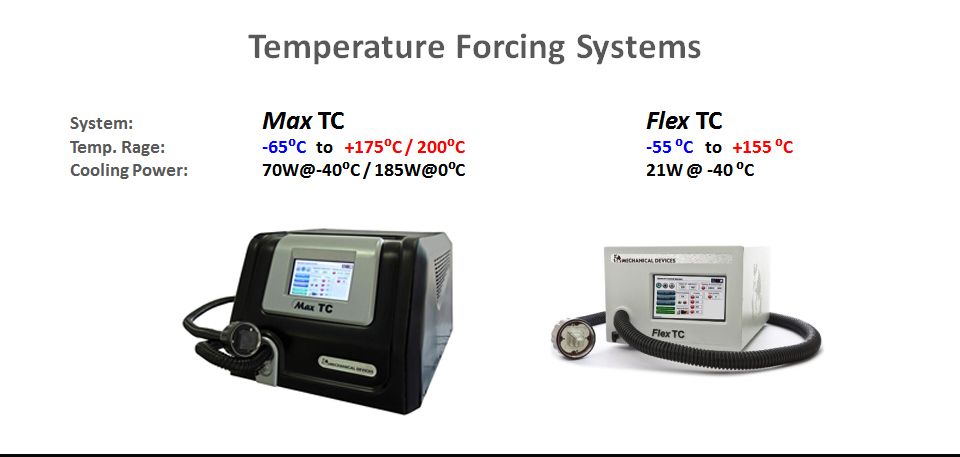 Mechanical Devices

- is a global leader and innovator in IC temperature forcing systems /solutions / temperature systems ( Temperature Testing Semiconductor IC ), that are used primarily by semiconductor manufacturers to test their IC and wafer. Our temperature testing systems test the DUT via direct IC contact, conduction. The Advanced Thermal solution systems in the Semiconductor industry worldwide today.Mechanical Devices IC thermal control units perform fast, accurate, stable and cost effective solutions, using advanced and patented technology.With the industry´s state-of-the-art benchtop temperature control systems Flex TC and high power Max TC, Mechanical Devices is changing the way of testing and thermal cycling of DUT´s, enabling semiconductor manufacturers wafer test processes.

to increase their own profitability by improving the efficiency of their IC and Mechanical Devices end-user customers are among the world's top

semiconductor manufacturers. Our systems are well integrated with automatic test equipment (ATE) and Handler in production.

---

MD Team is available for consultation, Contact us Today!

Receive an optimal thermal solution for your devices over temperature.

With our Thermal Characterization System / Direct Contact System for

accurate

temperature IC test.

---

FlexTC Temperature Forcing Test System is a technological breakthrough in DUT cooling and heating technology. FlexTC covers a wide temperature range of -55°C to +155°C with an accuracy of +/- 0.2°C. It is compact, self-contained, fluid-free and easily fits on a bench-top. FlexTC does not require compressed air or chillers and has ultra-quiet operation (40d BA).





Max TC G3 temperature forcing system


Cooling Power 85W@-40⁰C
From

-65⁰

C to +

175⁰

C / (Option for

200⁰

C

)

MaxTC Temperature Forcing

Test System is our latest product and a powerful evolution of the FlexTC, containing all the benefits of the former but with increased temp. range of -65°C to +175°C/ +200°C, enhanced transfer rates (120°C/min),powerful cooling force. MaxTC provides solutions for all cooling & heating needs at the semiconductor industry

.




We support all Engineers for : Thermal Control Units for IC Testing | Characterization | Validation | Reliability | FA | ATE | Production | IC Test | Temperature test of IC | Temperature Testing Semiconductor IC Devices |Temperature Forcing Systems | Temperature Test Systems | Thermal Forcing Systems |Semiconductor ATE | Thermal Test | Semiconductor Test

| conduction IC Device temperature test | Our systems acts as a mini chamber

environment

for the device under test |

Mechanical Devices Temperature Test Systems are proven for environmental test assure quality and help with failure analysis by environmental stressing the device throughout the semiconductor product design and manufacturing back end test.

These Products include and are protected by pending patents.




Proprietary of Mechanical-Devices Ltd 2012©




CE Certified

and ISO 9001:2008 Certified.